Trucking Company in Anchorage, AK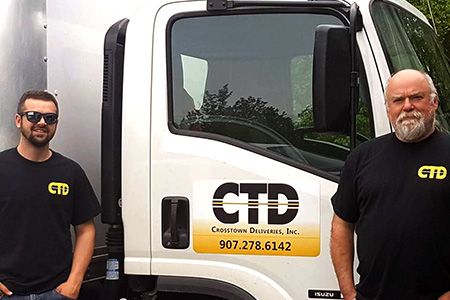 Since 1987, Crosstown Deliveries Inc has been serving Alaska with superb freight transportation, same-day delivery, reliable drivers, and excellent customer service. Big or small, we'll handle it all! Give us a call today to see why we've stood the test of time.
Experience One of the Best Flatbed Trucking Companies in Alaska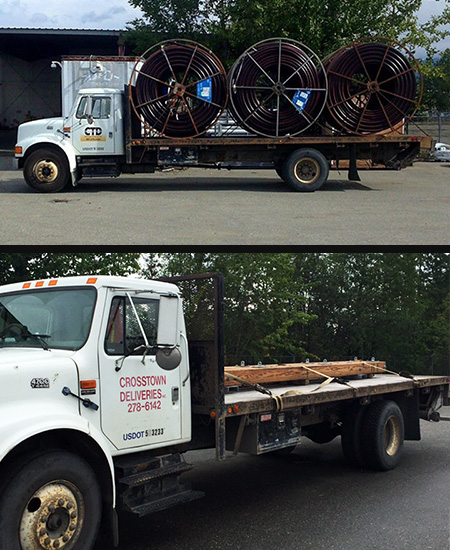 Crosstown Deliveries Inc is an asset-based delivery service and truck company in Anchorage, AK. We specialize in heavy haul, same-day delivery, freight shipping, air forwarding and courier services. When you come to us with a transportation challenge—density, dimension, destination or all three—we are motivated and willing to find quick and easy solutions to meet your needs. We like to think of ourselves as an extension of your business, so we take great pride in the businesses we represent and provide excellent customer service each and every time!
As one of the premier flatbed trucking companies in the area, we will carry a wide variety of materials such as general freight, paper products and construction supplies. Our well-trained and experienced drivers are in constant communication and are always available via cell phone to respond to questions and allow for the fastest possible response during the delivery process.
Need to ship medical supplies? We've got you covered. Our trucking company is responsive to the urgency of medical timetables and the importance of proper supply handling. We are able to safely handle and deliver a wide range of medical supplies, from gloves and hospital gowns to receptacles.
Our experienced staff members are pleased to be your delivery experts. Our specialties include:
Our experienced truck company are pleased to be your delivery experts. Our specialties include:
Need your items there as soon as possible? We've got you covered with our same day delivery services.
Our business has more than 30 years of delivery experience that sets us apart from our competition.
We'll deliver a wide variety of cargo, including general freight, building materials, paper products and construction materials.
Picking up or delivering your items doesn't need to break the bank. We offer our services at an affordable price.
Let Us Deliver Your Next Job!
Contact us at 907-278-6142 and let us welcome you into the Crosstown Deliveries Inc family! Proudly offering freight transportation and delivery service to the following areas:
Anchorage, AK
Big Lake, AK
Eagle River, AK