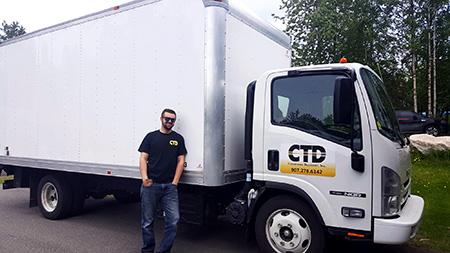 Crosstown Deliveries Inc is one of the premier flatbed trucking companies in Anchorage, AK. We specialize in box truck delivery service, flatbed delivery service, heavy equipment hauling service, and courier services. Our services are always on time, on target and worry-free. Whether you need restaurant supplies or paper products delivered to your home or place of business, we guarantee to get them there quickly and safely.
Cargo We Haul
General freight (10,000 lbs)
Medical, restaurant and electrical supplies
Paper products
Building materials
Construction materials & supplies
Freight Delivery

Crosstown Deliveries Inc specializes in freight transportation in Anchorage, AK. Our trucks are able to withstand 10,000-plus pounds of general freight materials and supplies. Whether you have a partial or full truckload or flatbed, we deliver smart solutions and completive pricing. Make the best choice for your home or business with help from our on-staff experts.

Same Day Delivery

When you're in a time crunch, you often can't wait on traditional delivery services to handle your deliveries in time. In these situations, trust us to deliver your items with our same day delivery service. We'll ensure a quick pickup at the location of your choice and deliver it to its destination. We'll keep you updated during the entire trip.

Heavy Haul Delivery

Picking up or delivering an oversized amount of equipment? Let us help with our heavy equipment transportation service! We have experience in heavy haul trucking for a variety of supplies such as pipe, aluminum, lumber, machinery and building materials. To ensure the safety of you and your materials, we will provide professional quotes, equipment and drivers. Don't let just anyone deliver your heavy haul. Contact us and let us handle it all!

Air Forwarding

Alaska poses some unique challenges when it comes to the shipment of equipment and supplies for construction and telecommunications companies, as their projects frequently take place in remote and hard-to-access locations. We are able to work with air carriers to ensure the safe and expedient delivery of these supplies to our clients' locations, no matter where they may be.
We'll Go the Distance For You!
Reach out to us at 907-278-6142 and let us show you what sets us apart from our competition when it comes to commercial hauling! We're committed to providing reliable, secure and professional services.
Contact us and let us handle it all!